Welcome back to Mixtape Monday/ Boston Lockdown as Experienced by One Neurotic Blogger…
Zomg you guys. Ok, so, last weekend started on Friday when the FBI and Boston Police put the entire city of Boston and the surrounding areas on lockdown. Yeah, LOCKDOWN. It's this crazy thing where all residents are strongly urged not to leave their homes.
And by strongly urged, I mean it's pretty much forbidden. One guy on a bike learned that the hard way when he was surrounded by 6 guys with machine guns who took his bike to probe for explosives and left him shaking on the ground once they realized he was just some guy.
If you ever find yourself on lockdown, and you are anything like me, here is what you can expect:
At 5:15am wake up to a text from your mother telling you your life is in immediate danger and to turn on the news. Still sleepy? Good, you're going to need your wits about you as you watch the news all day.
Find out the entire city of Boston is cancelled while hundreds of trained professionals continue their hunt for an armed and dangerous madman who is probably hiding in or around your house/apartment. Just sit tight.Your morning Bar Method class was called off, as was work, so proceed to watch the news. Without blinking. For 4 hours straight. Convince yourself the suspect is probably hiding in your apartment building stairwell. Continually get up to make sure your door is locked.
Talk to everyone you know about where you'd be hiding if you were on the run. Did you know that all your friends and family are experts in fugitive hiding spots? Turns out they are.  Yell to the FBI operatives on your TV screen to double check manholes, empty subway tunnels, suspicious looking pizza delivery boys and of course, your apartment building stairwell.
Take a break from the news and initiate Lockdown Workout aka Peanut Butter Fingers' No Nonsense Circuit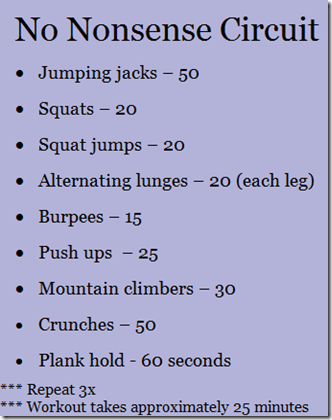 Now, don't worry about ruining your diet because you haven't gone grocery shopping this week and have nothing left in your kitchen but blueberries and a couple slices of bread. Drink some of that flat ginger ale in the back of your fridge to refuel.
Antsy yet? Are you thinking a walk around the block won't kill you? Turn up the news and let them terrify you into thinking it will. Pull dresser in front of the door.
At 4:15, decide that it's wine time. Lockdown drinking game- drink every time someone on the news says Chechnya. (But only drink a sip lest you run out of alcohol too quickly.)
While you wait for your boyfriend to get home, because he was one of the maniacs who defied orders and went to work, make a mixtape to put on your blog on Monday. Name it: Boston Strong Lockdown Mixtape.
Spotify: Boston Strong Lockdown Mixtape
love lockdown – kanye
cops and robbers – the hoosiers
i fought the law (and the law won) – bobby fuller four
bad boys- inner circle
one way or another- blondie
police on my back- the clash
authority song- john mellencamp
born in the usa- bruce springsteen
renegade- styx
sweet caroline- neil diamond
At 6pm breathe a sigh of relief when the "shelter in place" order is lifted. Although they haven't caught the guy yet, run out of your apartment with reckless abandon because you miss the outdoors and because you are starving. Go to dinner with your boyfriend at one of the only open restaurants in Boston. Proceed to stand in line for about an hour and a half.
Seeing as how you and about 200 other Bostonians just managed to congregate- which you all pledged not to do upon the terms of your release- check your phone every 45 seconds for updates on the manhunt.
THEY FIND HIM!!
Eat an all-American cheeseburger and drink a Boston-based Sam Adams Seasonal beer to celebrate. Go home and sleep easy for the first time in nearly a week.
THANK YOU FBI, BOSTON POLICE, STATE POLICE, BOSTON BOMB SQUADS, AND EVERYBODY ELSE FOR YOUR TIRELESS WORK AND DEDICATION!
Thanks to the effort of all the brave men and women who risked their lives to track down this villain, no civilian was injured during his capture and Boston was pretty much restored to normal by Saturday.
The rest of the weekend was spent going to the gym, visiting the makeshift memorial on Boylston Street, dining out and all that good stuff.
How did your weekend turn out? What is your favorite celebration meal??