It's Monday, boys and girls. Which, as regular readers know, means it's mixtape day!
AND as a cool twist this week, I'm taking part in Heather @ Fit Mama Real Food's Make It Monday link up. This is it's inaugural week and I'm so psyched to be part of it! Heather does really cool crafts and DIY projects around her house and garden, and thought other bloggers might want to share the things that they made over the weekend too. And well, she hit the nail on the head as far as this blogger is concerned. Since I already make mixtapes every Monday, I thought it sounded like a perfect fit!
So thanks for hosting Heather! I love this idea! (ps- her MIM post is going up this afternoon)
So how were your weekends? I hope all you moms out there got pampered and appreciated like you deserve
My weekend was good. I didn't celebrate Mother's Day with my mom because she lives a couple states away, but she's coming to visit me in a couple weeks and I can't wait! What I did do this weekend was errands.
Lots and lots of errands. I did not make it to Bar Method on Saturday morning like I planned, but that's okay because errands can be a workout in themselves- especially when you don't have a car- and especially when you insist on going to the CVS/grocery store located a mile from your apartment (because they're the best) and for some ridiculous reason also insist on buying the heaviest items they have in stock.
I then planned to go for a run on Saturday afternoon after all the errands and all the cleaning of my apartment with all the aforementioned CVS supplies, but I got distracted. Distracted by what, you wonder? By my personal time-blackhole, aka that thing that you always manage to get sucked into and can't pull yourself out of for hours. Everybody has one. (At least one.) For me that blackhole is not facebook, nor pinterest, nor reddit, nor video games (I don't even know what the cool ones are called) but no it's none of those, for me it's ABC Family.
Anyone else? Anyone at all?
That channel plays some great movies. And it just so happened they were playing a Harry Potter marathon all afternoon.
So, no, I did not get out for a run. I watched Harry Potters 4 through 6. (Well, I caught the very end of 4, and I turned it off about 10 minutes into 6 because enough is enough, but still. And it was kinda rainy at that point. I just thought you all should know that too.)
On Sunday I went to Bar Method and I did more errands, thus, more strength training. I'm sorry, Carrie Bradshaw, but shopping is not cardio, it's anaerobic.
Anyways, ever since my afternoon o' Harry Potter, I've had the song "do you believe in magic" in my head (for no particular reason, I just started humming it as I was watching) so I decided to make this week's mixtape theme: MAGIC.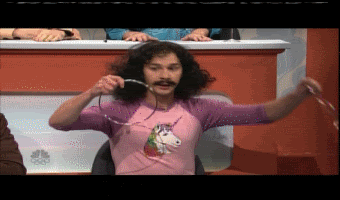 Spotify: Magic Mixtape
magic – b.o.b feat rivers cuomo
do you believe in magic – aly & aj
every little thing she does is magic- the police
abracadabra- jessie J
magic stick – lil kim
moves like magic – adam trent
magic carpet ride- steppenwolf
i follow rivers – the magician remix – lykke li
magic – pilot
poof! – merryman
bonus track: pinball wizard- the who
How were your weekends??
What's your time-blackhole?
What magic power do you wish you had? (I would want to read minds)